Simply explained: What does PIM mean?
PIM stands for Product Information Management and involves the administration and maintenance of product information. Often, product information in companies is not centralized but distributed across various systems. In a PIM system, all relevant product data is centrally managed and stored or referenced in a media-neutral way to make the data available for various output channels. Therefore, PIM encompasses both data management and the underlying infrastructure, including processes and technology.
Use Cases of a PIM System
When a company intends to publish product information in different output media, it is essential to manage and maintain these data in a PIM system. This ensures that all publications use the same data basis when updated (single-source-of-truth).
Typically, a PIM system integrates data from an Enterprise Resource Planning system (ERP), manufacturer data, sales and marketing information, as well as data from text or Asset/MAM databases. The data is consolidated, translated, controlled, and made available for various output channels within the PIM system. This allows for consistent product data to be accessible on the website, online shop, marketing emails, mobile apps, product documentation, print, and online catalogs. The output media are diverse and scalable.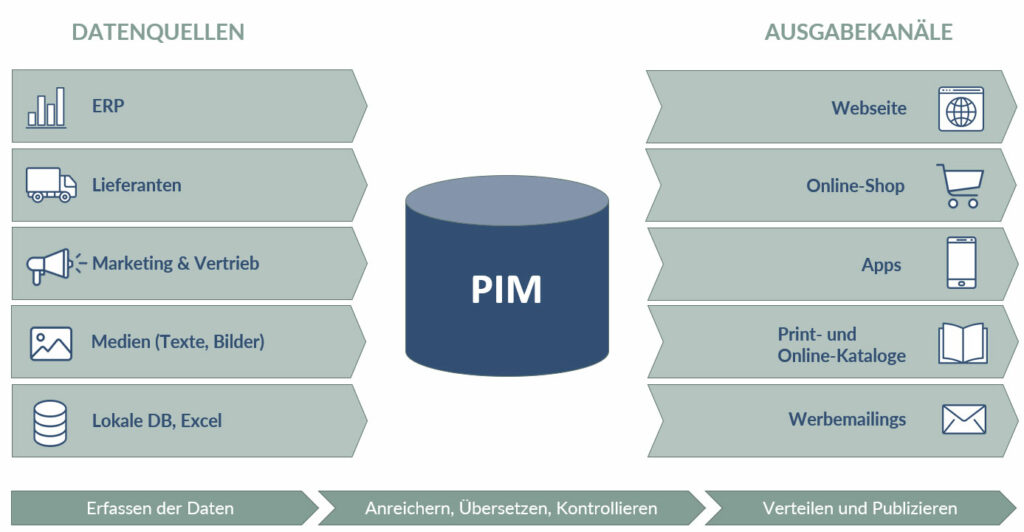 How does a PIM system work?
Product Information Management not only represents another component in your company's IT landscape but also takes your information management to a whole new level. To make product data accessible and processable for various purposes in individual departments, interfaces (APIs) between all existing database systems are essential. This makes the PIM system the central access point for all relevant product information.
Tasks and Benefits
A PIM system is the key technology for better interlinking and processing of product information. It allows companies to tap into optimization potential and achieve significantly better customer orientation.
With the implementation of a unified PIM system, companies benefit from numerous advantages:
1. Reduced effort for data maintenance, leading to high efficiency and resource conservation: Product data and changes are entered centrally once and made available to all departments.
2. Improved and secured data quality.
3. Products and offers can be presented in various sales channels tailored to the target audience with minimal time investment.
4. Publications like catalogs or themed worlds can be created much more easily, and catalog updates can be performed quickly and effortlessly through process automation.
5. Internationally operating companies can conveniently translate product data and marketing texts into all required languages using structured data.
6. SEO benefits from having a large database and detailed information possibilities.
In essence, a PIM system allows for the optimization of numerous processes. The time spent on data search and processing decreases significantly, while all departments in the company can rely on a much better data foundation. Simultaneously outputting information across different channels in various languages becomes effortless, making individual targeting of different customer segments much easier.
Good to know: With our many years of experience and expertise, we can find the optimal solution for your company and gladly implement a PIM system according to your requirements. This includes analysis, data modeling, output definitions, system selection, migration and integration of interfaces, as well as system operation. Of course, individual customizations are always included, ensuring that everything is tailored to your company's needs. Learn more about it here: Introduction of a PIM.
Subscribe to the free newsletter from PANTOPIX. We will gladly keep you informed about new articles on a regular basis.
In recent times, AI has attracted much attention as it opens up possibilities to automate manual tasks. But what benefits and potentials does AI actually offer to technical communication?
read more>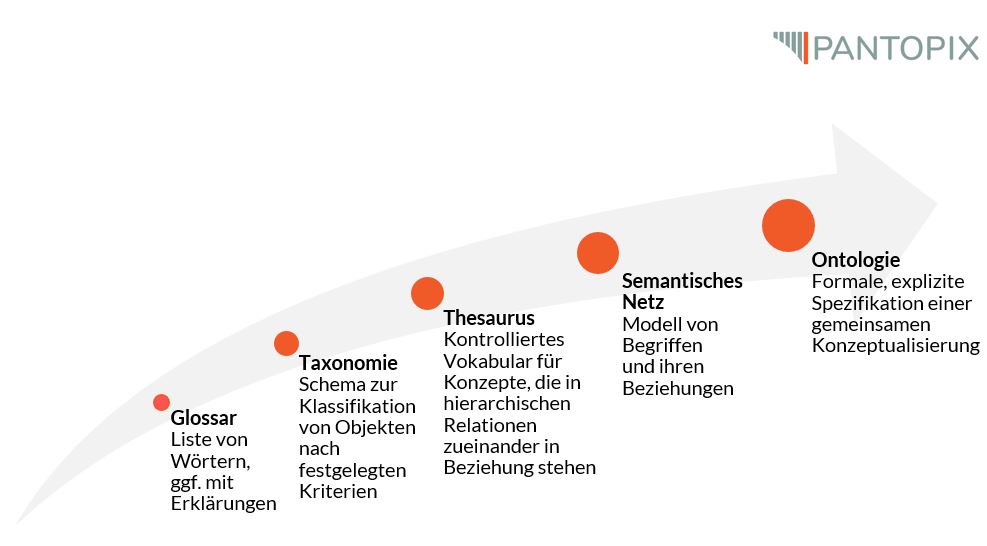 Articles
"Today, semantics is frequently discussed, especially in connection with terms like 'Semantic Web' or 'Semantic Knowledge Management.' But what exactly does semantics mean, and how relevant is it for technical documentation?"
read more>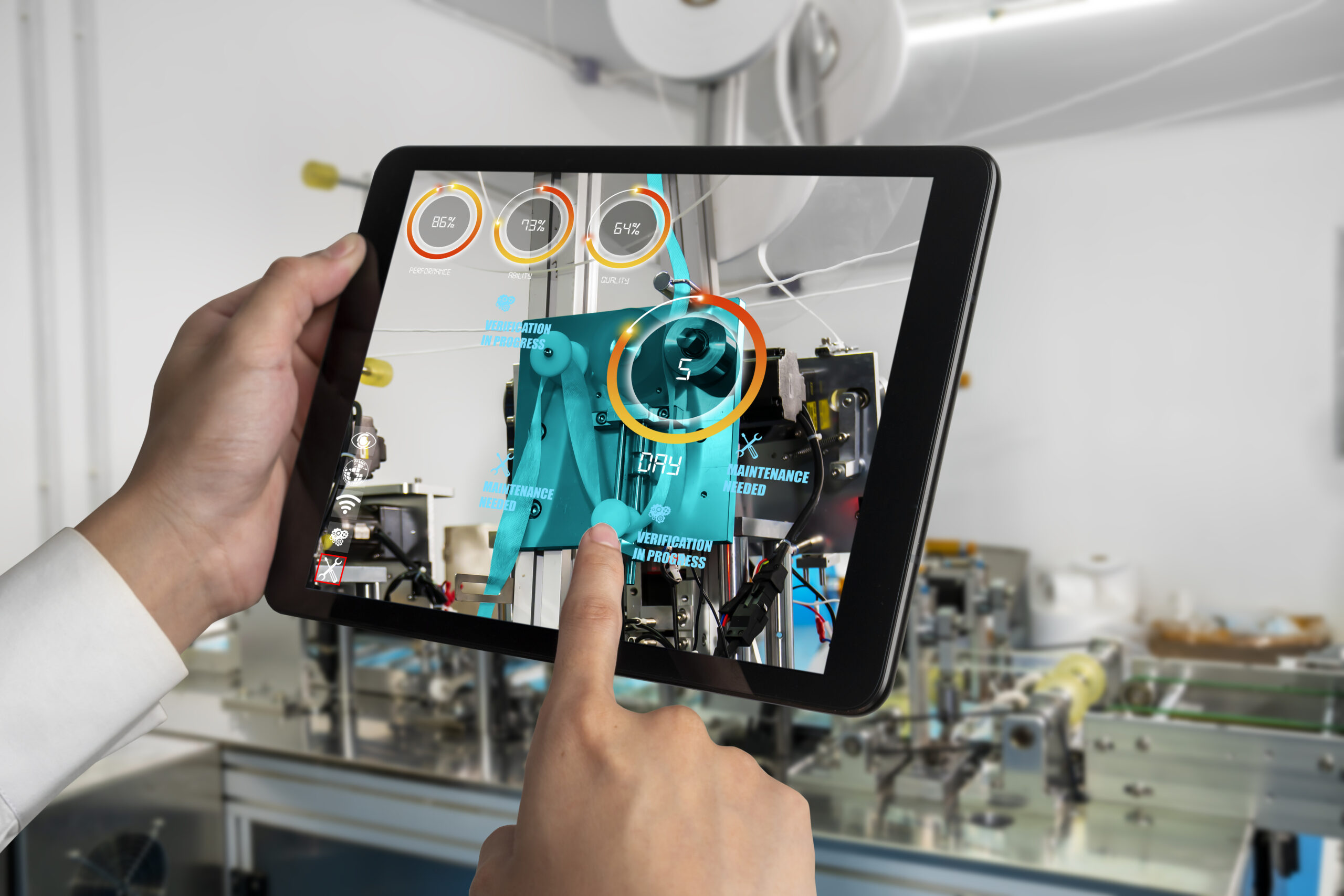 Articles
We wonder how far VR and AR are already operational and whether the trend will prevail and revolutionize technical documentation.
read more>
Karsten Becke
Managing Director