Excellent service
with structured information.
Service is a decisive and increasingly important factor for corporate success. Do you want to achieve higher profits and retain and win satisfied, loyal customers? Then you should optimize and expand your service with providing structured service information.
No matter which service strategy you pursue, a decisive prerequisite for successful service is the availability of the right information at the 'point of need' and 'moment of need': product- and task-specific, tailored to the level of training with an intelligent user and rights concept. And this along the entire service process – from the request/fault report to diagnosis, spare parts ordering, dispatching and execution to invoicing and analysis.
Challenges and potentials in service
As diverse as the service offerings are, so are the levers for improving service: We find individual solutions to all complex processes and problems in service, enabling you to provide efficient and excellent service and thus achieve higher profits and win satisfied customers.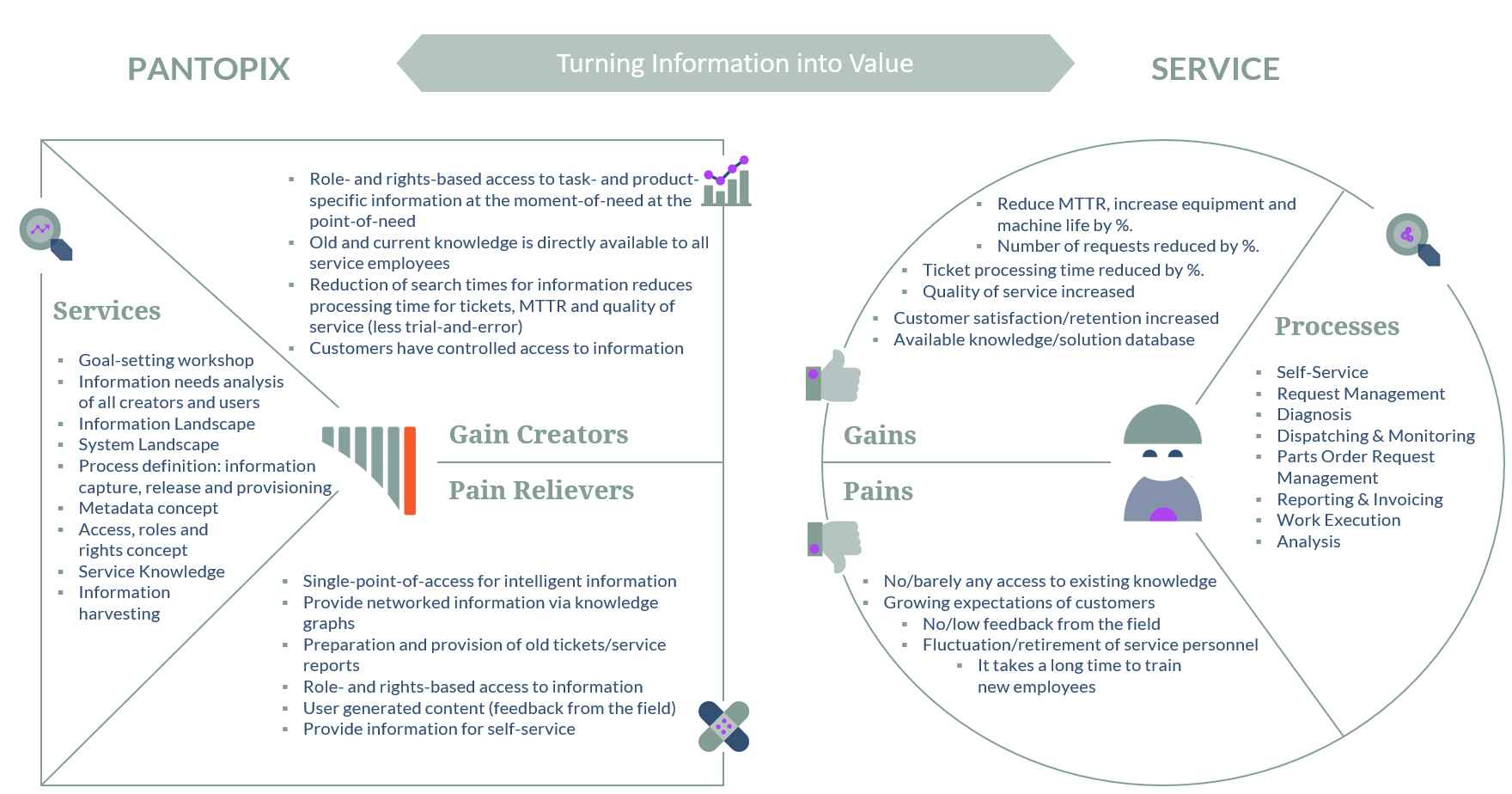 We take your service to the next level!
Feel free to contact us.
We take your service to the next level:
Goal-setting workshop: Development of strategic and operational goals for your service.
Information Needs Analysis: Identification of the information needs of all information creators and users along the Service Customer Journey
Information Landscape: Inventory of available information


System Landscape: Inventory of all systems in use
Metadata concept (knowledge graph): Development and implementation of a semantic, machine-readable knowledge network that links heterogeneous information from different databases
Information processes: Inventory of current processes for planning, researching, recording, releasing, translating, providing and archiving information
Access, roles and rights concept: development and implementation of a consistent concept for controlled access to information for internal and external users
Service knowledge: definition of the processes for capturing, maintaining and providing service knowledge by and for the service community
Information harvesting: Extraction, refinement and provision of relevant information from your digital assets such as service tickets or service reports.
Dr. Stefan Bradenbrink
Senior Consultant